Baie Malouf
Bateman Bay
Berrigan Mine
Berrigan South
Buckell Lake
Copper Cliff Extension
Grandroy
Kokko Creek
Lac Antoinette
Lac Chibougamau
Lac David
Lac Élaine
Lac Simon
Mont Sorcier
Nepton
Quebec Chibougamau GoldFields
Virginia Option

Mont Sorcier - Fe, TiO2, V2O5
RoyTownship, Quebec (NTS 32G/16)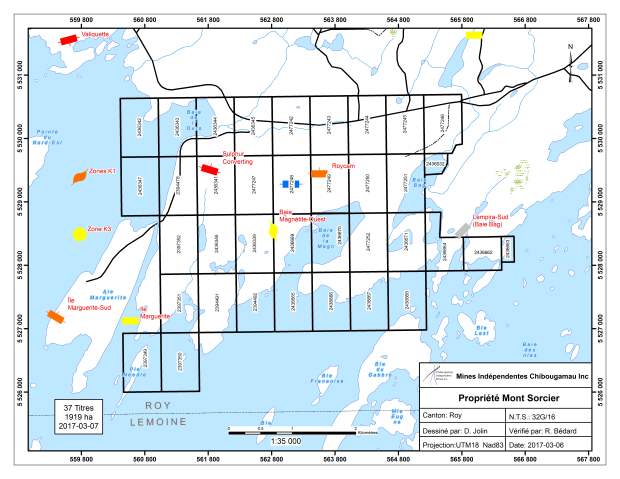 Property
This property consists of 37 irregularly shaped staked claims covering 1,919 hectares located immediately adjacent to the NE extremity of the Lac Chibougamau claim block and is subject to a 1% gross metal royalty to Globex.
History
This magnetite/titanium/vanadium in the layered portion of the LDC has been explored by various major companies including Dome Mines, Noranda Mines, Consolidated Chibougamau Goldfields, Sulphur Converting Corp. and Campbell Chibougamau Mines, Campbell Resources and others during the period 1920 to the present. A historical non NI 43-101 compliant resource estimate on what is termed the North Zone was calculated by Campbell Chibougamau Mines Ltd. in 1974 and is available on the Quebec Government E-Sigeom (Examine) site under GM.3.1867.  The report indicated approximately 171,571,000 tons of open pittable ore with a head grade of 30.0 % Fe and 1.06% TiO2 .  Additional testing at a Quebec Government Laboratory in 1975 using Davis Tube testers indicated an average grade of 66.2% Fe, 1.32% TiO2 and 0.57% V2O5 in concentrate with P2O5 (an impurity) content of less than 0.001%.  It is projected that the North Zone, within the area defined by the historical drilling, can generate 95.2 million tons of concentrate.
(The resource calculation is historical in nature and has not been confirmed by Chibougamau Independent Mines.  Therefore it should not be relied upon.)
Exploration
Chibougamau Independent Mines intends to undertake a drill hole across the iron zone in order to provide samples for further test work and geological background information.  The hole will also test a parallel sulphide horizon which is reported to contain copper and gold values in some historical drill holes and in surface showings.