Baie Malouf
Bateman Bay
Berrigan Mine
Berrigan South
Buckell Lake
Copper Cliff Extension
Grandroy
Gwillim
Kokko Creek
Lac Antoinette
Lac Chibougamau
Lac David
Lac Élaine
Lac Simon
Mont Sorcier
Nepton
Quebec Chibougamau GoldFields
Virginia Option

Quebec Chibougamau Goldfields - Gold, Silver, Copper 
McKenzie Township, Quebec (NTS 32G/16)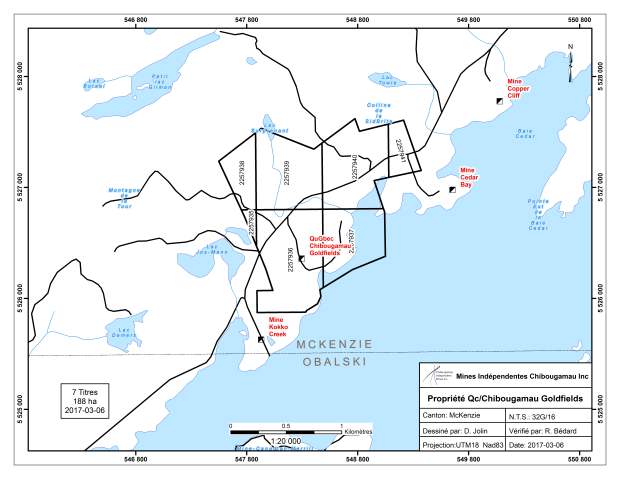 Property
The Quebec Chibougamau Goldfields property consists of 7 claims totaling 188 hectares, which lies on the north shore of Doré Lake between Kokko Creek and Cedar Bay Mines and is subject to a 3% gross metal royalty to Globex.
History
A shaft was sunk in 1956 and Patino Mining initiated the mining and milling of the ore.  In 1970, Campbell Chibougamau Mines acquired the property and put a decline under the surface pillar of the main zone.  This surface pillar (H zone) was mined by open cut.  Production from 1970 to 1974 is reported at 264,000 tons grading 1.74% Cu and 3.08 g/t Au.  A non NI 43-101 compliant historic resource of 19,191 tons grading 1.93% Cu and 2.64 g/t Au is assigned to this property.
The Quebec Chibougamau Goldfields property extends between the former producer Cedar Bay Mine and the Copper Cliff (Siderite Hill) deposit. The Cedar Bay Mine has documented production from 1958 to 1990 of 3,782,850 tons grading 1.57% Cu and 3.12 g/t Au and a non NI 43-101compliant historic resource of 248,520 tons grading 5.45 g/t Au and 0.97% Cu above level 732 metre.  At Copper Cliff Siderose, non NI 43-101 compliant historic resources of 472,000 tons at 0.46% Cu are reported.  Mention is also made of highly anomalous gold and silver values within the Copper Cliff Siderose mineralization.
Exploration
No significant amount of exploration work has been undertaken on the property since its acquisition in 2007.  Review of its historic data is ongoing and it is expected that specific work recommendations, including diamond drilling will be generated in 2013 within the previously mentioned Phase I exploration program in the Chibougamau Camp.