Bateman Bay - Gold, Copper
McKenzie & Roy Townships, Quebec (NTS 32G/16)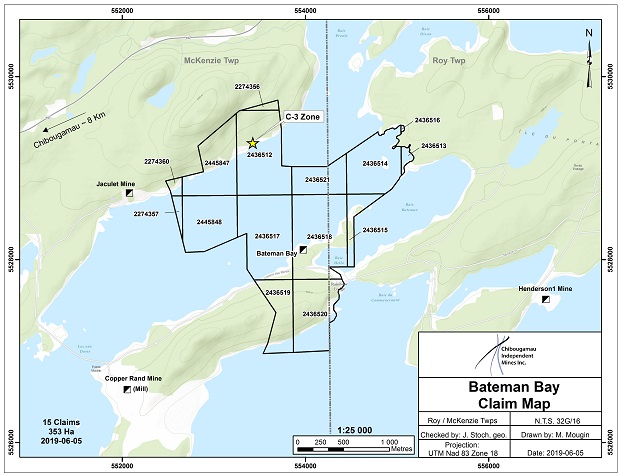 Property
The Bateman Bay (Au-Cu-Ag) mine & two former mining blocks, of the former Jaculet Mine, constitute the present property composed of 15 mining claims totaling 353 hectares which are wholly owned by Chibougamau Independent Mines Inc., subject to a 3% gross metal royalty to Globex.
History
Mineral production records show a modest, sporadic production between 1968 to 1977 totaling approximately 25,000 t grading 1.8% Cu, 1.7 gpt Au and 15.7 gpt Ag derived mostly from the A-3 zone.  For details of the exploration history spanning the period 1936 to 2006, the reader is referred to the summary table found in Globex's 2011 Annual Information Form (AIF).
Mineralization
Numerous mineralized zones were intersected by surface drilling and from underground workings on the Bateman Bay property. Seven lenses have been identified, A1, A-2, main A-3, A-4, A-5, C-north & C south. These zones oriented roughly 110° are represented by intense alteration in sericite + chlorite. The mineralization is concentrated in lenses locally narrow but with a good lateral and vertical continuity. At Bateman Bay, the gold mineralization is found associated to pyrite with minor chalcopyrite.  Pyrite is disseminated and also along stringers, it may represent 1% to 50% of the rock by volume and the gold does not appear to be directly correlated to the amount of pyrite. The copper (chalcopyrite) mineralization is uniform, but the gold values are more erratic.
The A-3 Zone, the main mineralized lens at Bateman Bay, extends laterally > 600 metres and vertically to 300 metres. This structure has been opened and sampled on four levels.
A non NI 43-101 compliant resource estimate by SIDAM Inc. dated May 26, 1992, is shown below:
| Zone | Tons | Average width | Cu% | Au g/t |
| --- | --- | --- | --- | --- |
| A-2 | 94,714 | 1.4 m | 2.04% | 4.52 g/t |
| A-3 west | 159,394 | 2.1 m | 3.01% | 4.69 g/t |
| A-3 east | 142,557 | 2.7 m | 2.62% | 3.84 g/t |
| Total | 396,665 | 2.1 m | 2.64% | 4.35 g/t |
The above resources are all historical in nature having been estimated prior to May 30th, 2003 (CIMM current and adopted guidelines). The company is not treating these historical estimates as current mineral resources as defined under NI 43-101.
Examination of the drill logs from the 1992 winter drilling campaign indicates gold values were intersected outside of the main copper zones where no systematic sampling was completed.

Zone C, located 1.0 km NE  of the "Zone A", strikes N138°E and dips 55° to 65° SW. It has been drill tested to a depth of 200 meters and for a strike length of more than 1 km. Zone C consists of two parallel branches traced underground for hundreds of metres on different levels. The mineralization consists of pyrite + chalcopyrite with some sections grading up to 1.66% Cu, 1.70 g/t Au/ 3.5 m for a continuous length of 180 m and appears to be strengthening with depth.
C-3 Zone, located over 1 km to the west, on strike with the C Zone was previously shallowly drilled and intersected by an exploration drift from the Jaculet Mine at a depth of 200 metres.
Exploration and Development
In 2007, an airborne magnetometer/AEM survey was flown by Globex as part of the initial evaluation process on the property following its acquisition in that same year.
In 2013, 6 holes were drilled at shallow depth to better understand the mineralization orientation of the C-3 Zone. Two new drill holes were completed in 2016 at a vertical depth of 165 and 255 metres. BJ-16-16, the deepest hole drilled on the zone returned 3.61% Cu, 1.72 g/t Au, 11.90 g/t Ag and 0.022% Co over 12.5 m.
In September 2017, CIM undertook a program of stripping on the projected undip projection of the C-3 Zone. Subsequent channel sampling returned 3.6% Cu, 31.0 g/t Ag, and 422 ppb Au over 3.9 m over 5 consecutive samples and 2.53% Cu, 11.0 g/t Ag and 396 ppb Au over 3.05 m over 3 consecutive channel samples. The 2016 drilling combined with the 2017 stripping confirmed the interpretation of the mineralization to strike N124° and to vary in dip from 85° SW to 85° NE.
Two more drill holes were completed during the winter of 2019. Drill hole BJ-19-17 intersected the C-3 Zone at a vertical depth of 340 m (1,115 ft), returning two intersections of 3.46% Cu, 2.75 g/t Au, 10.81 g/t Ag and 0.023% Co over 12.47 m (40.9 ft) and 8.49% Cu, 7.55 g/t Au, 49.22 g/t Ag and 0.022% Co over 5.9 m (19.36 ft). Drill hole BJ-19-18 also intersected the C-3 Zone, at a vertical depth of 450 m (1,476 ft), returning 7.70% Cu, 3.58 g/t Au, 33.25 g/t Ag and 0.034% Co over 9.2 m (30.2 ft).
Drilling to date has followed the C-3 Zone from surface to a vertical depth of 450 m.