Grandroy - Gold, Copper, Molybdenum
Roy Township, Quebec (NTS 32G/16)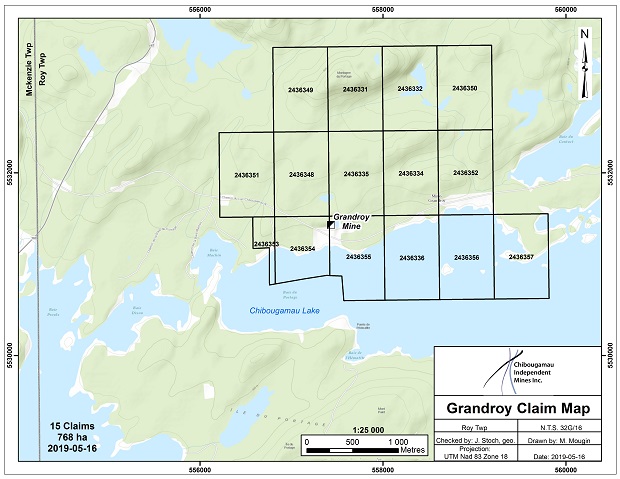 Property
The Grandroy property consists of 15 claims totalling 768 hectares which completely covers former mining concession 604 and is located 12 km east of the town of Chibougamau, in the southwest quarter of Roy Township.  The claims are subject to a 3% gross metal royalty to Globex.
History
Open pit mining started in February 1967 and ceased in May 1968 due primarily to the high stripping ratio.  From 1970 to 1975, a spiral decline to a depth of 70metres below the pit floor was used to extract further ore.  A total of 345,000 t grading 1.24% copper and 0.70 gpt Au was mined from the altered porphyry.  Exploration also identified an additional copper-gold zone located approximately 400 metres south of the open pit.
In 1981, a non NI 43-101 compliant historic resource of 44,000 t grading 2.65% Cu, 1.8 gpt Au was determined. Interestingly, two drill intercepts at the bottom of the decline are reported to have intersected respectively 4.85% Cu, 12.8 gpt Au/3.2 m and 3.01% Cu, 5.9 gpt Au/3.9 m.
In the mid 1960's, Campbell Chibougamau drill tested the area east of the present pit area where best drill intercepts from a 48 hole program returned respectively 15.9 gpt Au, 0.14% Cu/1.3 metres and 4.3 gpt Au, 0.20% Cu/3.4 metres apparently related to a shear structure.
Exploration
In 2006, Globex flew an EM and MAG survey over the property and in 2010 completed a magnetometer survey over the principal mine claim and its extension southward into the lake.
Exploration and Development
In March 2013, CBG carried out an 8.7 ln-km survey of wide array dipole-dipole IP and accompanying magnetometer/HEM coverage on recently acquired claims contiguous and south of the original Grandroy land holdings. The geophysical work aims to define previously poorly explored (inferred) NS trending auriferous structures immediately south of the pit area.  The objective of this new geophysical approach is to generate new drill targets to assess the merits for potential (poorly explored) high grade gold zones in addition to expanding the search for a larger porphyry copper system.  While geophysical results are currently being processed and interpreted, CBG is confident that attractive drill targets will be defined from this work allowing drill testing later in 2013.